Anonymous Twitter Account @HiddenCash Is Hiding Envelopes Stuffed With Money Around California
Someone has been hiding cash around the Bay Area and sending clues through Twitter on where to find it. On Wednesday night, the account, @HiddenCash, made its first drop in Los Angeles.

1. UPDATED — May 29, 2:10 a.m. ET:
2. On Twitter, @HiddenCash describes itself as "an anonymous social experiment for good."

Atticus Grey @_Atticus
Follow
@HiddenCash Next happy hour round is on me, thanks @HiddenCash!
4. To locate money hidden across the region, @HiddenCash has been sending out clues, which usually include a photo hint.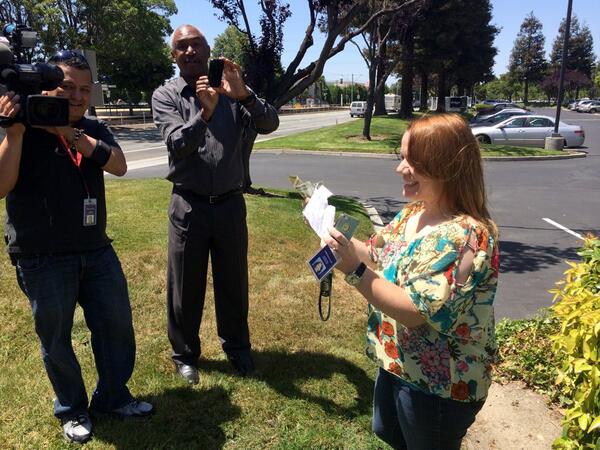 Janelle Wang @janellewang Follow
Latest drop by @hiddencash … in the @nbcbayarea parking lot! Crazy fun!
6. Money has been found throughout San Francisco: inside a record album in Amoeba Records, taped onto parking meters, attached to a bulldozer…

Random Mysticks @RandomMysticks Follow
@HiddenCash this was great. Amoeba records in a We are the world vinyl!!
7. And even at the beach.
Thanks @HiddenCash
9. Alex from San Jose found $130. He looks pretty stoked about it too:

Hidden Cash @HiddenCash Follow
You'll find white swans here; and, if you're lucky, a white envelope. (Too easy???)
11. The man behind the account said in a phone interview with KTVU that he made his money in San Francisco real estate. "The last real estate deal I did I made about half a million dollars. I can afford to give a lot," he said.

Hidden Cash @HiddenCash Follow
New SF drop: find Mr. Franklin along the "crookedest street" (towards the bottom). Retweet when you find.
15. He said his treasure hunts are for fun and are meant to "put a smile on someone's face."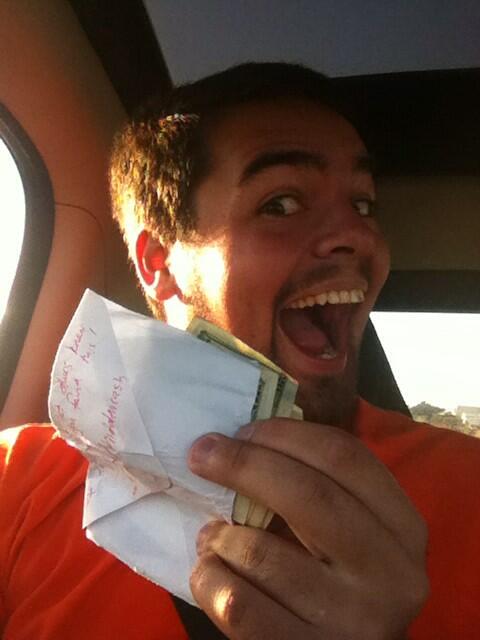 Matthew Burkert @mattypatty513 Follow
@HiddenCash YESSSSSS had to race another searcher but I WON. (Old catapillar bulldozer on ocean beach)
17. This guy shared his findings by buying lunch for his co-workers:

Hidden Cash @HiddenCash Follow
Here's a photo of last drop in case you're more visual. Bye for now, San Jose. We'll be back! Next stop: Los Angeles
19. This lucky lady found some of the cash in San Jose:

Hidden Cash @HiddenCash Follow
More San Jose drops coming!
21. The anonymous benefactor also said in an interview with CNN that he plans to continue his project indefinitely and is hoping to expand…

Hidden Cash @HiddenCash Follow
Thx for all the ❤️ @HiddenCash is going nationwide! Let your friends around the country know 2 follow 4 clues & . Next wknd: LA
22. Wednesday night, @HiddenCash tweeted that it was about to make its first drop in L.A.
Read more: http://buzzfeed.com/mbvd/anonymous-benefactor-is-hiding-money-around-california
---
---